Traveling can be a massive hassle, with plenty of room for inconvenience and error. But while there's not much you can do about the late departures, the surly gate attendants, or the smelly fellas somehow always seated right next to you, there are ways you can make your next business trip a little less unpleasant — all thanks to that handy little gadget in your pocket.[ Related: Android apps: Best of the best ]
Android's travel app selection has really taken off over the past few years, and the Google Play Store now boasts an impressive array of genuinely useful titles for the traveling professional. After putting numerous standout candidates to the test, these are the apps I'd recommend stowing on your smartphone and keeping at arm's reach whenever your work next has you hitting the road or flying the (allegedly) friendly skies.
(All apps are free unless otherwise specified.)[ Take this mobile device management course from PluralSight and learn how to secure devices in your company without degrading the user experience. ]TABLE OF CONTENTS
Planning and preparing
Organize your packing process
PackPoint is a travel organization genie. You simply tell it where you're going, when, and what you'll be doing — and the app generates a detailed checklist of suggested items for your suitcase.
You can add your own items to the list, as needed, and then use it as a guide to make sure you remember everything, every time.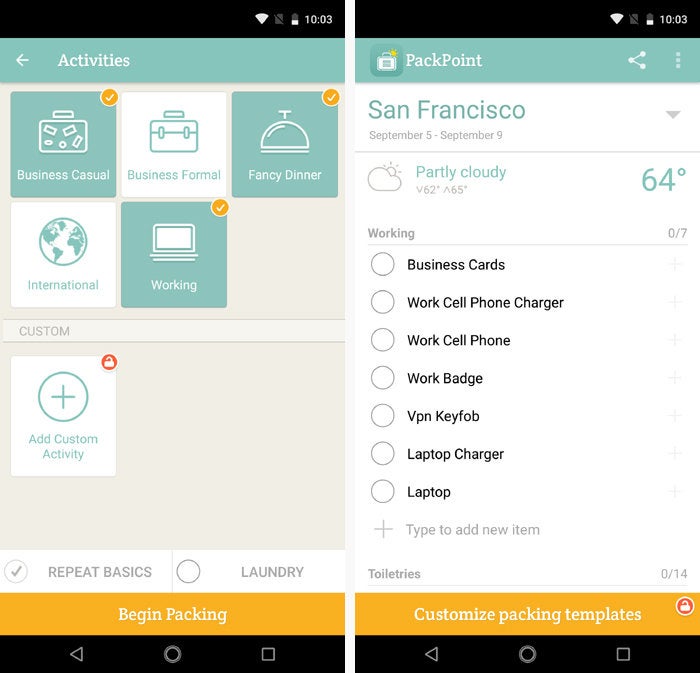 PackPoint is free, with an optional one-time $3 upgrade that removes ads and gives you the ability to create your own custom packing templates. The paid version of the app also integrates with TripIt (more on that in a moment), which means it can import your travel plans automatically and create packing lists before you even ask.
Prepare for local navigation
Yeah, yeah, I know: You're well aware of Google Maps. But what you might not realize — or maybe have just forgotten — is that with a teensy bit of planning, you can download all the data you need for a trip directly into Maps in advance. That way, you can navigate to your heart's content, even in areas without strong mobile data signals, and you can avoid burning through mobile data unnecessarily on the road.
Here's the trick: While you're still in the comfort of your home or office, open up Maps on your phone and search for the city you'll be visiting. Tap the city's name within the search interface, then tap its name a second time when it appears in a box at the bottom of the screen.
At that point, you should be taken to a full-screen info page about the city — and within a row of circular icons, you should see one icon with a downward-facing arrow and the word "Download" beneath it. Tap that, then tap "Download" on the confirmation screen that appears. Once the download finishes, you'll be able to access maps and directions within your destination without the need for an active connection.
Repeat as needed for any additional places on your agenda, then rest easy knowing your navigational guide will be there and waiting — no matter what sort of conditions you encounter.
Map out your downtime
If you're lucky enough to have a business trip with some built-in downtime — even just an hour or two in the evening — don't waste a precious second searching around and trying to figure out what to do. Instead, download the Guides by Lonely Planet app and get a head start on finding desirable destinations to explore.
Lonely Planet has tons of useful info about places all over the world, with content broken out into sections like See, Eat, Sleep, Shop, Drink, and Play. You'll also find selections of "must-see" attractions for cities, along with suggested tours and curated collections — which include multiple-stop suggestions under themes like contemporary art, architecture, history, and outdoor action in addition to a variety of city-specific subjects. Once you select something you're interested in, you'll find all sorts of details about its location and pricing. You'll even be given quick links to make reservations or buy tickets, if applicable.